Paper Analytical Device Project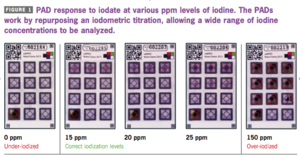 Low quality pharmaceuticals are a global problem
---
The World Health Organization estimates that 10-30% of the pharmaceuticals that are purchased in the developing world are substandard or outright fake drugs. Many countries in the developing world do not have the technological infrastructure or regulatory resources to keep low quality medicines off the market shelves. And since the pharmaceutical trade is a lucrative global market, low quality medicine can cross borders and harm people anywhere in the world. 
We are making tools to solve this problem.
---
Paper analytical devices (PADs) are test cards that can quickly determine whether a drug tablet contains the correct medicines. They are cheap and easy to use. They don't require power, chemicals, solvents, or any expensive instruments, so they can be deployed rapidly at large scale wherever a problem with pharmaceutical quality is suspected.
We are leveling the playing field.
---
These little test cards could change the balance of power between sellers and buyers. Right now, most buyers have to trust what the seller tells them about the quality of the pharmaceuticals they purchase. Unscrupulous manufacturers and distributors know that there is little chance that their medicines will be screened in a lab. These paper test cards don't need a lab, and they will enable people all over the world to quickly detect low quality medicines and remove them from the market.
 PAD Training/Categorize Leaderboard.
---
The PADs Team has generated a number of training sets aimed at Statistical or Machine Learning to provide automatic classification of drug presence from an image. This follows our work and publication about the application of the Caffenet Neural Network to PAD card categorization: Sandipan Banerjee, James C. Sweet, Christopher R. Sweet, Marya Lieberman. Visual Recognition of Paper Analytical Device Images for Detection of Falsified Pharmaceuticals, IEEE Winter Conference on Applications of Computer Vision, 2016.
For a comparison with humans, 20 Tanzanian FDA inspectors achieved an accuracy of 93% and PADs team member Sarah Bliese achieved 97%!!
If you are interested in taking part in the development of such methods please contact the PADs team to get access to the data.
 PAD Rectification Competition Leaderboard.
---
---
For more information please go to PAD project at Notre Dame